SeaDataNet brings together a unique group of major institutes and marine data centres from countries bordering the North-East Atlantic, and its adjacent seas: the Mediterranean, the Black Sea, the Baltic, the North Sea and the Arctic:
National Oceanographic Data Centres, Designated National Agencies for international data exchange and Satellite Data Centres represent the backbone of the marine data and information infrastructure. They are skilled in management and added value services on a wide range of marine information and data, in physical oceanography, marine biology and marine chemistry and currently manage the data management structure of several research programmes.
Research laboratories and modelling centres, contribute to the development of value added products necessary to SeaDataNet users.
The SeaDataNet partnership include also International Organisations contribute to networking and research activities.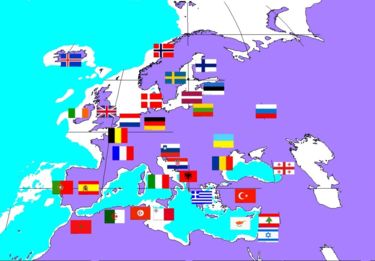 | N° | Organisation | Coordinating Centre | Country |
| --- | --- | --- | --- |
| 01 | | SYSTEMES D'INFORMATIONS SCIENTIFIQUES POUR LA MER (SISMER) | FRANCE |
| 02 | | MARINE INFORMATION SERVICE (MARIS) | NETHERLANDS |
| 03 | | BRITISH OCEANOGRAPHIC DATA CENTRE (BODC) | UNITED KINGDOM |
| 04 | | DEUTSCHES OZEANOGRAPHICHES DATENZENTRUM | GERMANY |
| 05 | | OCEANOGRAPHICAL LABORATORY | SWEDEN |
| 06 | | IEO DATA CENTRE | SPAIN |
| 07 | | HELLENIC NATIONAL OCEANO. DATA CENTRE | GREECE |
| 08 | | DIP. OCEANOLOGIA E GEOFISICA AMBIENTALE | ITALY |
| 09 | | OCEANOGRAPHIC DATA CENTRE | RUSSIAN FEDERATION |
| 10 | | COI/IOC | INTERNATIONAL |
| 11 | | DIPARTIMENTO AMBIENTE, CAMBIAMENTI CLIMATICI E SVILUPPO SOSTENIBILE | ITALY |
| 12 | | ISTITUTO NAZIONALE DI GEOFISICA E VULCANOLOGIA | ITALY |
| 13 | | INSTITUTE OF MARINE SCIENCES | TURKEY |
| 14 | | DIRECTION OCÉANOGRAPHIE SPATIALE | FRANCE |
| 15 | | ALFRED WEGENER INSTITUTE | GERMANY |
| 16 | | GHER | BELGIUM |
| 17 | | NORWEGIAN MARINE DATACENTRE | NORWAY |
| 18 | | DEPARTMENT OF MARINE ECOLOGY | DENMARK |
| 19 | | CIEM - ICES | INTERNATIONAL |
| 20 | | JOINT RESEARCH CENTER | INTERNATIONAL |
| 21 | | IRISH MARINE INSTITUTE - OCEAN SCIENCE SERVICES | IRELAND |
| 22 | | CENTRO DE DADOS TECNICO-CIENTIFICOS | PORTUGAL |
| 23 | | NATIONAL OCEANOGRAPHIC DATA COMMITTEE | NETHERLANDS |
| 24 | | BELGIAN MARINE DATA CENTRE | BELGIUM |
| 25 | | FLANDERS MARINE DATA AND INFORMATION CENTRE | BELGIUM |
| 26 | | MARINE RESEARCH INSTITUTE (MRI) | ICELAND |
| 27 | | FINNISH INSTITUTE OF MARINE RESEARCH (FIMR) | FINLAND |
| 28 | | INST.OF METEOROLOGY & WATER ECONOMY | POLAND |
| 29 | | MARINE SYSTEMS INSTITUTE | ESTONIA |
| 30 | | LATVIAN INSTITUTE OF AQUATIC ECOLOGY | LATVIA |
| 31 | | INFORMATION DEPARTMENT | LITHUANIA |
| 32 | | SIO-RAS | RUSSIAN FEDERATION |
| 33 | | MARINE HYDROPHYSICAL INSTITUTE | UKRAINE |
| 34 | | INSTITUTE OF OCEANOLOGY (BAS) | BULGARIA |
| 35 | National Ins. Marine Research & Development "Grigore Antipa" | DEPARTMENT OF OCEANOGRAPHY, MARINE AND COASTAL ENGINEERING | ROMANIA |
| 36 | | NATIONAL OCEANOGRAPHIC CENTRE | GEORGIA |
| 37 | | DEPT. OCEANOGRAPHY & AQUACULTURE | MOROCCO |
| 38 | | INSTITUTE OF OCEANOGRAPHY AND FISHERIES | CROATIA |
| 39 | | DEPARTMENT FOR HYDROLOGY | ALBANIA |
| 40 | | MARINE BIOLOGY STATION | SLOVENIA |
| 41 | | INTERNATIONAL OCEAN INSTITUTE - MALTA OPERATIONAL CENTRE - UNIVERSITY OF MALTA | MALTA |
| 42 | | OCEANOGRAPHY CENTRE | CYPRUS |
| 43 | | ISRAMAR | ISRAEL |
| 44 | | DEPARTMENT OF PHYSICAL OCEANOGRAPHY | LEBANON |
| 45 | | CNR-ISAC | ITALY |
| 46 | | ENSSMAL | ALGERIA |
| 47 | | INSTM | TUNISIA |
 Associated partners
| | | | |
| --- | --- | --- | --- |
| 48 | | CENTRE SPATIAL DE TOULOUSE | FRANCE |
| 49 | | EUROPEAN CENTRE FOR INFORMATION IN MARINE SCIENCE AND TECHNOLOGY | EUROPE |