Virtual Research Environment
A Virtual Research Environment (VRE) offers a collaborative environment to perform data-driven research. Gone are the days when you had to download all inputs to process them on a slow, memory-lacking desktop computer! Instead, do your work with ample data and the latest versions of the software tools on performant hardware in the cloud. The data can be shared and users can return to run similar processes again on different data.
The SeaDataCloud VRE is a pilot application of such services and supports research with marine data and SeaDataNet tools in the cloud. You need a Marine-ID to login. Once registered, users login with their MarineID and have access to a dashboard that provides access to a private workspace as well as the different services described hereinafter.
You are invited to test the beta version of the SeaDataCloud VRE, bearing in mind that for parallel tests with many users at the same time resources are too limited. Please contact us, if you have such plans. For single, or few user tests, please proceed, test the components and provide us your valuable feedback.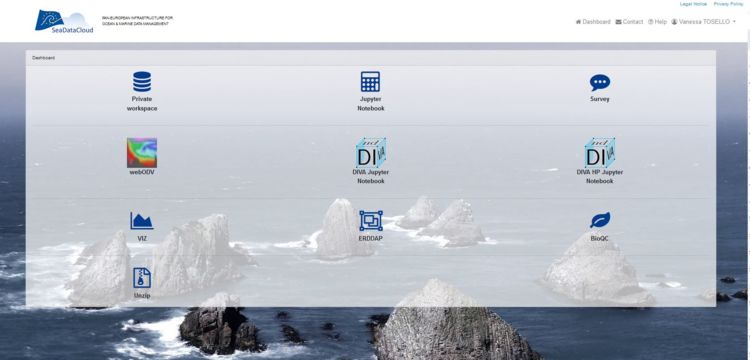 For more background information and training, please check the 2nd User workshop webinar or read the introduction below.
Shared components: Dashboard, private workspace and file selector
The dashboard is the heart of the VRE. Besides providing the main user interface, it is responsible for managing diverse aspects of the VRE. It provides the user interface with access to the different services and to the private workspace, an online storage space for users to store their own datasets. Additionally, the dashboard performs some tasks behind the scenes: It is responsible for triggering data synchronisation mechanisms and ensures user authorization for the various services by a token-based system.
SeaDataCloud VRE tools
webODV consists of a suite of online services based on Ocean Data View (ODV), designed to interactively perform analysis, exploration and visualization of ocean data. webODV allows users to aggregate large numbers of SeaDataNet data files and perform quality control.
DIVAnd (Data Interpolating Variational Analysis in n dimensions) is a cutting-edge software tool designed to efficiently interpolate in-situ observations onto a regular grid, in an arbitrary number of dimensions (for instance longitude, depth and time). A set of Jupyter notebooks provides a guideline to the user on how to prepare the data, optimise the analysis parameters and perform the interpolation. 
BioQC is a tool to process and to run quality control on biological datasets. BioQC helps researchers to evaluate whether a particular biological occurrence record within the input file is useful for their analysis. It also helps the data providers to identify possible gaps and errors in their datasets.
The tool returns the input file with quality information attached for each occurrence record and a detailed report. This result file will enable the users to filter for suitable records.
VIZ is a modern and dynamic visualisation service to explore datasets on a map. By clicking on data points, the users see a plot of the full profile prepared with WebODV, and metadata of the input ODV files. A time selector permits to limit the data for the period of interest. Additionally, the visualisation service provides the possibility to explore 4D gridded products prepared with DIVAnd.
The Subsetting service based on ERDDAP strives to make data access easier, by providing services to subset, download and plot data. It returns datasets in various data formats such as CSV, MATLAB, netCDF, ODV and more. An interactive visualization tool allows users to discover and browse through the subset results with modern web technologies.