SeaDataNet brings together a unique group of major institutes and marine data centres from countries bordering the North-East Atlantic, and its adjacent seas: the Mediterranean, the Black Sea, the Baltic, the North Sea and the Arctic:
National Oceanographic Data Centres, Designated National Agencies for international data exchange and Satellite Data Centres represent the backbone of the marine data and information infrastructure. They are skilled in management and added value services on a wide range of marine information and data, in physical oceanography, marine biology and marine chemistry and currently manage the data management structure of several research programmes.
Research laboratories and modelling centres, contribute to the development of value added products necessary to SeaDataNet users.
The SeaDataNet partnership includes also International Organisations contributing to networking and research activities.
The SeaDataNet consortium includes 44 beneficiaries of the SeaDataNet 2 European project (Partners), 11 sub-contractors of these beneficiaries funded also by the European Union in the frame of SeaDataNet 2 project and one associated partner not funded by European Union.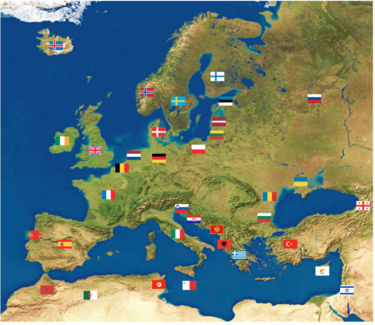 Partners
| N° | Organisation | Coordinating Centre | Country | Link to Organisation | Link to Data Center/ Laboratory |
| --- | --- | --- | --- | --- | --- |
| 01 | | | FRANCE | | |
| 02 | MARIS BV | | NETHERLANDS | | |
| 03 | | | UNITED KINGDOM | | |
| 04 | | | GERMANY | | |
| 05 | SMHI | | SWEDEN | | |
| 06 | IEO | | SPAIN | | |
| 07 | | | GREECE | | |
| 08 | IN-OGS | | ITALY | | |
| 09 | RIHMI | | RUSSIAN FEDERATION | | |
| 10 | ENEA | | ITALY | | |
| 11 | INGV | | ITALY | | |
| 12 | METU | | TURKEY | | |
| 13 | CLS | | FRANCE | | |
| 14 | AWI | | GERMANY | | |
| 15 | UNIVERSITE DE LIEGE | | BELGIUM | | |
| 16 | | | NORWAY | | |
| 17 | NERI | | DENMARK | | |
| 18 | ICES - CIEM | | INTERNATIONAL | | |
| 19 | EUROPEAN COMMISSION | | INTERNATIONAL | JRC | |
| 20 | MARINE INSTITUTE | | IRELAND | | |
| 21 | INSTITUTO HIDROGRAFICO DE PORTUGAL | | PORTUGAL | | |
| 22 | | | NETHERLANDS | | |
| 23 | | | BELGIUM | | |
| 24 | VLIZ | | BELGIUM | | |
| 25 | MRI | | ICELAND | | |
| 26 | FMI | | FINLAND | | |
| 27 | INSTITUTE OF METEOROLOGY and WATER MANAGEMENT | | POLAND | | |
| 28 | TALLINN TECHNICAL UNIVERSITY (TTU) | | ESTONIA | | |
| 29 | LATVIAN INSTITUTE of AQUATIC ECOLOGY | | LATVIA | | |
| 30 | | | LITHUANIA | | |
| 31 | SIO-RAS | | RUSSIAN FEDERATION | | |
| 32 | NATIONAL ACADEMY of SCIENCE of UKRAINE | | UKRAINE | | |
| 33 | | | BULGARIA | | |
| 34 | NIMRD | National Ins. Marine Research & Development &quote;Grigore Antipa&quote; | ROMANIA | | |
| 35 | TBILISI STATE UNIVERSITY | | GEORGIA | | |
| 36 | IOF | | CROATIA | | |
| 37 | NIB | | SLOVENIA | | |
| 38 | UNIVERSITY OF MALTA | | MALTA | | |
| 39 | UNIVERSITY OF CYPRUS | | CYPRUS | | |
| 40 | | | ISRAEL | | |
| 41 | CONSIGLIO NAZIONALE DELLE RICERCHE | | ITALY | | |
| 42 | IBSS | | UKRAINE | | |
| 43 | UniHB | | GERMANY | | |
| 44 | TUBITAK-MAM | | TURKEY | | |
Sub-contractors
| Organisation | Coordinating centre | Country | Link to Organisation | Link to Data Centre/Laboratory |
| --- | --- | --- | --- | --- |
| UNESCO | | INTERNATIONAL | | |
| | | ALBANIA | | |
| ENSSMAL | | ALGERIA | | |
| SHOM | | FRANCE | | |
| IMBK | | MONTENEGRO | | |
| | DEPT. OCEANOGRAPHY & AQUACULTURE | MOROCCO | | |
| Eu-CONSULT | | NETHERLANDS | | |
| RSHU | | RUSSIAN FEDERATION | | |
| CSIC | | SPAIN | | |
| INSTM | | TUNISIA | | |
| STFC | | UNITED KINGDOM | | |
Associated Partner
| Organisation | Coordinating Centre | Country | Link to Organisation | Link to Data Centre |
| --- | --- | --- | --- | --- |
| IOPAN | | POLAND | | |